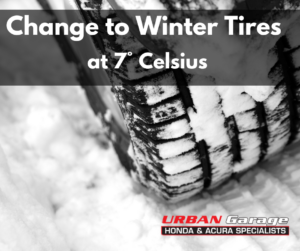 The age-old question: When should I change over to my winter tires?" 
When the seasonal temperature falls below 7 degrees Celsius it is time to change over to winter tires on your vehicle. Urban Garage recommends winter tires in Manitoba because they outperform all season and all-weather tires especially when the temperature is regularly below 7 degrees Celsius. Winter tires are designed with compounds that promote traction on ice and snow which help with the control of your vehicle during our cold winters. 
When switching over your winter tires it is also a wonderful time to have your vehicle inspected. Urban Garage Auto Ltd. recommends that you should check for any alignment concerns, check your brake condition and wear and check your lights and wipers to ensure that your vehicle is running in tip-top condition. 
Urban Garage Auto is here for all your servicing needs on your Honda or Acura vehicles. Let us provide you with dealer quality service for less time and money. We are Winnipeg's trusted Honda and Acura service Specialists.