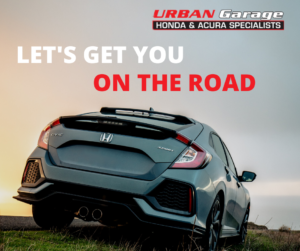 With summer almost here many people are planning a road-trip to go on vacation, camping, to see loved ones or simply getting out to your local Provincial Park. It is important to make sure that your vehicle is in good working order before you head out so that you can safely and efficiently travel to your destination of choice. Let Urban Garage perform a vehicle pre-trip inspection before you head out on that road-trip.
Some important aspects to check during a vehicle pre-trip inspection are:
Check your Lights
Your road trip may start in the morning, but you may be returning in the evening. Knowing that your headlights, brake lights and signals are all in good working order will ensure that you reach your destination and back home without worry. Performing this simple check will provide you peace of mind.
Check & top up all Fluids
Your vehicle relies on many different fluids to ensure a smooth and efficient driving. After driving through our harsh winter, it is important to make sure that your fluids are checked and topped up before you hit the highway to see your favorite destinations in Manitoba and beyond. Urban Garage will check:
• Windshield Washer Fluid
• Oil for level and condition
• Coolant to ensure your vehicle does not overheat
• Transmission Fluid for level and condition
• Brake Fluid level
• Power Steering Fluid
Checking these fluids before you head out on your road trip can prevent an inconvenient break down that may interrupt your travel plans.
Check Brakes
An important safety check before hitting the highways is your brakes. Our technicians will perform a brake inspection to ensure smooth braking and to avoid unwanted and inconvenient repairs while away on vacation. Especially after our long winter and wet spring it will be important to check that your brakes are in top working order. Having them checked will provide you peace of mind that you will reach your destination without issue.
Check your Tires
One of the most important things on your car is your tires. It can also be one of the things that causes you the most challenge when heading out on that long road trip. Checking the pressure of your tires and inspecting the tread can save you from any delays. Don't forget about the spare tire! At Urban Garage we will check the spare and make sure that all your tires are in decent shape and at the correct tire pressure for that optimal ride and performance.
We are here for all your servicing needs on your Honda or Acura vehicles. Let us provide you with dealer quality service for less time and money. We are Winnipeg's trusted Honda and Acura service Specialists.
Enjoy your road trip and be safe on the roads knowing we are here for you!