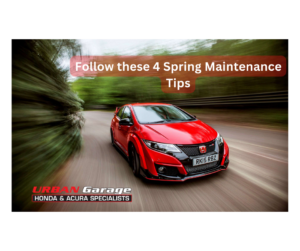 Now that we're moving past the cold and bitter winter and into sunny spring, some things are recommended to be done to make sure your vehicle makes it through to next winter.
Things like changing your tires, getting your suspension checked, replacing your wiper blades, and giving your car a good wash inside and out will improve the longevity of your vehicle.
Let's dive more into detail:
Changing your tires
With the warm weather approaching us, it's finally time to start thinking about switching over to our summer tires. It's recommended to switch them over when the temperature is hovering at about 7°C for about 7 days; an easy way to remember this is the 7-7 rule.
Along with the 7-7 rule, it is also important to inspect your tires for these things:
The tread depth
Any damage on the tire or wheel from the previous season or over the winter
Tire pressure
Inspecting these things on your tires will ensure that you have an easy start to your spring, and if you need a new tire, head over to Urban Garage to find the best replacement option!
Getting your suspension checked
Canadian winters can be brutal on your suspension, so when that snow starts to melt, you know it's time to get your suspension checked so your vehicle is in tip-top shape for all your spring and summer road trips.
However, some might ask how to know if your suspension needs to be checked. Follow along with these symptoms to decide if you need to get it looked at by a professional:
Unusual clanking or knocking noises
Unusually uncomfortable ride
Bounces more than usual over bumps
And more…
Like always, if you want your vehicle to be looked at by someone trustworthy, bring it down to Urban Garage. Where you receive dealer quality service for less time and money.
Replacing your wiper blades
Besides changing your tires, replacing your wiper blades is one of the most important items to check off your spring maintenance list. You do need to see where you're going after all!
Finding the right pair of wiper blades is crucial to cleaning your windshield properly. There are a few things you can do to make sure you're getting the right kind and size of wipers for your vehicle:
Check your owner's manual
Visit Urban Garage
Most owners' manuals will tell you what size you need based on your vehicle specifications, but if you're still not sure then head down to Urban Garage, where we will look up the right sizes and ensure you get the best value for your money, guaranteeing a seamless and easy experience.
Interior and Exterior Detail
What better way to finish off your Spring maintenance checklist than with a freshly washed car?
Washing off all the grime and salt from the winter once the snow is partially melted will ensure the condition of your vehicle lasts as long as possible and reduces the risk of rust or any potential mechanical complications.
When detailing the exterior of your vehicle, it's important to make sure you cover these areas:
Undercarriage
Wheel Wells
Roof
Grill
The best way to make sure you cover these areas is to utilize a self-serve wand wash facility, unless you have the tools available at home. This way you have complete control of how your vehicle gets washed and the degree of detail put into it.
As for the interior, rinse off the floor mats while you wash the exterior, and then vacuum and wipe down the entire vehicle to ensure you get rid of any dirt or salt your boots may have tracked inside.
Remember to use a good quality car soap and avoid dish soaps. Also, only use the same cleaner on your wheels as you would use on your paint!
We are here for all your servicing needs on your Honda or Acura vehicles. Let us provide you with dealer-quality service for less time and money. We are Winnipeg's trusted Honda and Acura service Specialists.
Have a happy and healthy spring!