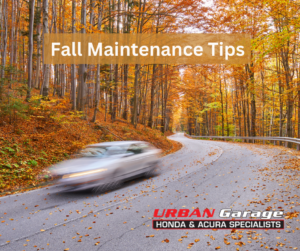 Now that the kids have gone back to school and the Fall & Winter activities are about to kick off it's time to make sure that your vehicle is well maintained so that you do not run into any unwanted interruptions. Fall is a great time to have your vehicle inspected prior to going into those cooler fall days and the morning frosts. This is leading into our Manitoba winter so make sure your vehicle is in good working order during this October and November.
Here are some important items to have checked during a Fall Maintenance inspection:
Check your Wiper Blades
One thing that is regularly overlooked is the wiper blades on a vehicle. They wear out, begin to crack and don't efficiently clean your window. A driver usually realizes this when they need it most. Take the time to inspect and replace your wiper blades if they are not flexible or if there is any signs of cracking or separation. The great news is that most wiper blades are fairly inexpensive but make your drive a whole lot better when you can see where you are going.
Check your Lights
In the Fall it gets a lot darker much sooner as you may have noticed. Which means that you will use your lights more often on your drive. Knowing that your headlights, brake lights and signals are all in good working order will ensure that others will be able to see you when you are the road to that hockey or ringette practice. Performing this simple check will provide you peace of mind.
Test Your Battery
As the overnight temperature begins to drop it will begin to put a little more strain on your battery. Having your battery tested is great idea to ensure that you will have trouble free starting each and every time. Batteries will age over time and will start to lose the power to crank over your starter. Loose connections and corrosion can also play a part in preventing your car from starting. Getting your vehicle battery and connections checked in the fall will really help.
Check & top up all Fluids
It is important to make sure that your fluids are checked and topped up on a regular basis. It also helps to prevent any unplanned breakdowns. Catching items before they become a problem is the best solution for your peace of mind.
Urban Garage will check:
• Windshield Washer Fluid
• Oil level and condition
• Coolant to ensure your vehicle does not overheat
• Transmission Fluid level and condition
• Brake Fluid level
• Power Steering Fluid
Checking these fluids as part of your Fall Maintenance plan will help to prevent an inconvenient break down that may interrupt your travel plans.
Check Brakes
An important safety check before hitting the highways is your brakes. Our technicians will perform a brake inspection to ensure smooth braking and to avoid unwanted and inconvenient repairs. After our hot summers it will be important to check that your brakes are in top working order. Having them checked will not only provide you peace of mind but will also possibly prevent additional costly repairs.
Check your Tires
Your tires are one of the most important things on your car. They can also be one of the things that causes you the most challenges when getting the kids to school or an activity. Your tires will begin to lose pressure as the temperature decreases causing lower tire pressure or your tire pressure warning light to come on. This decrease in the morning temperatures is one of the primary reasons the tire pressure warning light can come on.
Checking the pressure of your tires and inspecting the tread can save you from any delays. Don't forget about the spare tire! At Urban Garage we will check the spare and make sure that all your tires are in great shape and at the correct tire pressure for that optimal ride and performance.
We are here for all your servicing needs on your Honda or Acura vehicles. Let us provide you with dealer quality service for less time and money. We are Winnipeg's trusted Honda and Acura service Specialists.
Have a safe and wonderful fall!