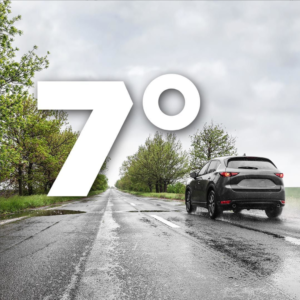 Winter is finally coming to an end in Winnipeg and Urban Garage Auto Ltd. Is ready to help you get ready for the spring weather. As many people know, when driving on Winnipeg roads it is important to not only have your car checked over from the harsh winter, but to ensure that you change over your winter tires when the average temperature reaches 7°C.
The question is always: When should you change out your winter tires for your summer ones? Well the answer is that winter tires will out perform All Season Tires when the temperature is below 7 Degrees Celsius. In Manitoba it is recommended to change the winter tires because driving when the temperature is above 7 degrees Celsius can be very hard on the compounds of the tire. Winter Tires are designed to perform best in snow and ice mainly because of the softer compounds an the design of the tires. When the temperature is above 7 degrees Celsius the tires can prematurely degrade the compound and cause unnecessary wear. To get the maximum life from your winter and summer tires it is important to change them over when the average temperature is above 7 degree Celsius. This average temperature usually occurs in March to early April in Winnipeg where it becomes the best time to switch them over.
When switching over your winter tires it is also the best time to have your vehicle inspected after driving through our harsh winters. Urban Garage Auto Ltd. recommends that you should check for any alignment concerns, check over your brakes, check your lights and wipers to ensure that your vehicle is running tip top. This may also be a good time to have both the exterior of your vehicle cleaned including the undercarriage as well as having the salt and grime removed from the interior of your vehicle to eliminate the possibility of winter salts from negatively impacting your vehicle.
Urban Garage Auto is here for all your servicing needs on your Honda or Acura vehicles. Let us provide you with dealer quality service for less time and money. We are Winnipeg's trusted Honda and Acura service Specialists. Book your Appointment with us today!